Biggest pay-TV provider in Poland
Cyfrowy Polsat is the biggest pay-TV provider in Poland and the leading DTH platform in Europe in terms of customer base size.
It ensures access to over 180 channels, including 80 HD channels.
A flexible offer and an extensive portfolio of channel packages.
Thanks to Cyfrowy Polsat GO service, customers can watch their favorite stations not only via a set-top box but also on mobile phone and a tablet. The offer includes thousands of shows available on demand and over 90 linear channels which can be watched on-line on mobile devices.
Cyfrowy Polsat's Multiroom HD service enables use of the same TV package on as many as 4 TV sets.
The platform has own broadcasting center which is located in Warsaw and enables us to transmit TV channels to the transponders we use on the Hot Bird satellites .
The company relies on the latest MPEG-4 compression system which offers enhanced quality services and more effective use of satellite capacity.
Cyfrowy Polsat has its own set-top box factory which is located in Mielec [in the south-east of Poland]. We are the only operator offering own set-top box. This way we can control the STB production process and offer high quality equipment which meets our customers needs.
In January 2016 we launched to the market the latest and the most advanced set-top box offered by satellite platforms in Poland – the EVOBOX PVR. It is the 18th model of a set-top box which rolled off Cyfrowy Polsat's production lines.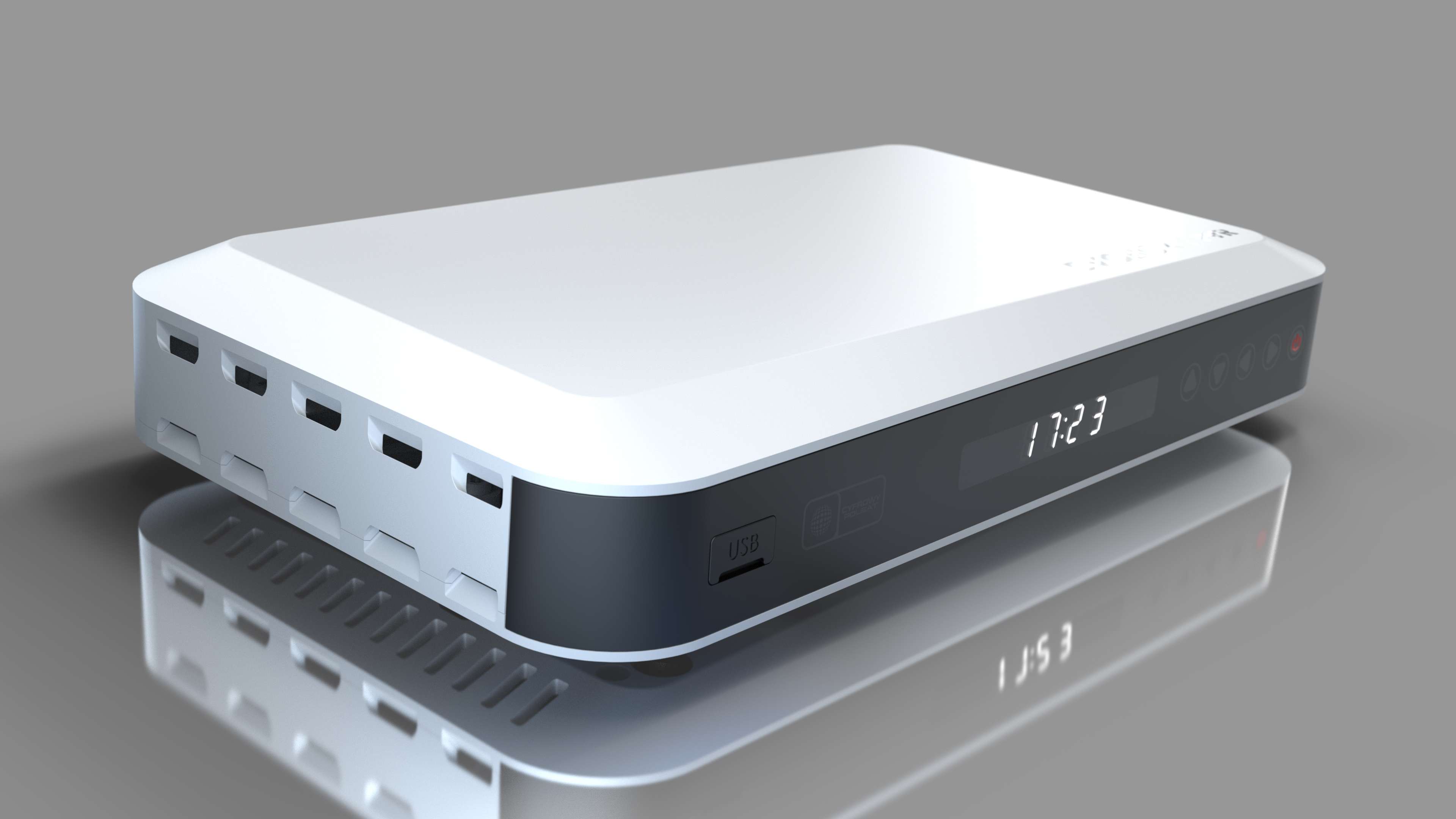 EVOBOX PVR has software which offers personalized and integrated TV experience. The STB supports recording of as many as three channels simultaneously, it is characterized by modern design, while its innovative software has been developed in cooperation with ADB. The device is more than just a classic STB and thanks to the new features it has become a home multimedia center which also enables its users to watch VOD content and on-line channels.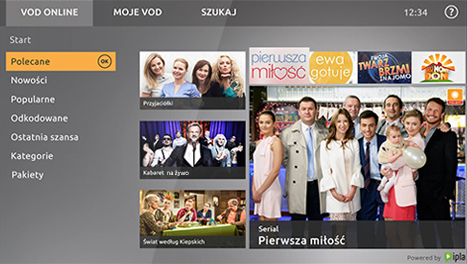 While using a connected STB, customers can also enjoy Cyfrowy Polsat GO service (an application installed on board the STB) which expands the satellite TV package by adding on-line access to the content offered on demand and the linear channels included in a subscriber's TV package, as well as by offering access to paid and free VOD content. Thanks to this a subscriber may enjoy continous access to thousands of items from the VOD library.
In addition, while using the ON THE GO option, a subscriber also gains simultaneous access to content on 3 selected mobile devices, thus being able to watch TV not only at home but also on-the-go, at any place where Internet access is available.
Leader of pay TV market
Pay TV services in Poland are offered by satellite platform operators (DTH) and cable TV operators as well as through IPTV providers.
According to our own estimates, sector data and PMR forecasts, in 2016 operators of satellite TV platforms had the dominant share, both in terms of the number of subscribers and revenue, on the pay TV market – nearly 55% in terms of subscriber base. There are three DTH platforms operating in Poland: Cyfrowy Polsat, nc+ and Orange, while the market is practically divided between the first two. The subscriber base of the DTH market in Poland is relatively stable – in 2016 it reached approximately 6 million.

Cyfrowy Polsat is the market leader in terms of the number of customers. At the end of 2016 we provided pay TV services to over 3.5 million subscribers. At the same time we actively expanded our offer, selling paid access to online television or the Multiroom service, as a result of which as at December 31, 2016 we provided nearly 4.8 million contract pay TV services (together with services of paid access to online television), including over 1 million Multiroom services.

Based on PMR forecasts, we estimate that at the end of 2016 Cyfrowy Polsat's share in the Polish pay TV market, in terms of the number of subscribers, was close to 32%. The second player in terms of subscriber base was nc+ platform which provided services to approximately 2.1 million subscribers at the end of 2016, as reported by Vivendi (shareholder of the platform), which translated into a market share in the pay TV market of ca. 19%. Orange cooperates with nc+ platform, offering pay DTH TV based on nc+ programming offer as an element of its integrated packages.

Cable TV operators' share in the pay TV market is slightly above 40%. Around 400 cable TV operators are active on the Polish cable TV market, including three major operators: UPC Polska Sp. z o.o., Vectra S.A. and Multimedia Polska S.A. At the end of the third quarter of 2016 the total combined share that these three operators had in the Polish pay TV market was estimated at ca. 23%.
The leading IPTV providers in Poland are Orange Polska S.A. and Netia S.A. The remaining part of the IPTV market is divided among Multimedia Polska S.A. and local ISPs. In spite of strong growth dynamics, the importance of IPTV is marginal as its market share is less than 5%.
The situation on the Polish pay TV market is stable, both in terms of quantity and quality. On the one hand, growth potential is very low due to the high degree of market penetration with the services, while on the other, pay TV operators are active in increasing the loyalty of their subcribers bases by, among others, offering the increasingly popular bundling of services where pay TV is bundled with telecommunication services (Internet access, voice), or by developing and offering their proprietary OTT services to their customers, which enabale customers to watch content offered on demand on a wide range of mobile devices. As a result, the trend of merging of pay TV and telecommunication markets is gaining strength.
Overall forecasts of pay TV market development
According to PMR forecasts, in the years 2016-2021 the pay TV market in Poland will face stagnation with slightly declining number of subscribers. This is mainly due to the high market penetration and the high saturation of the target group for terrestrial TV services with DVB-T standard services.
To attract DVB-T users, pay TV operators will diversify their offers with an aim to make them maximally unique. The factors which are of great significance in own customer base retention include:
bundled offers containing telecommunication and content services, combined with sales of equipment (tablets, smartphones, laptops, TV sets) and supplementary services, as well as
an extended offer of exclusive content. State-of-the-art technologies are rapidly gaining importance as they enable operators to provide personalized content (such as content on demand) via Internet, to mobile devices in particular.
According to PMR, in the years 2016-2021 satellite platforms will continue to be the biggest segment of pay TV market in Poland, reaching a market share of 57% (in terms of market value) by the end of the forecast period. Cable TV operators will remain the second major segment, with a market share of approximately 37% at the end of the forecast period. Despite the highest growth dynamics, the significance of IPTV services will remain low during the period, although the development of broadband access and fiber optic networks may have a positive effect on the development of this segment.
Polsat Group's development on Polish pay TV market
Polsat Group believes that it can significantly expand the pay TV market by adequately responding to changes in the customers' behavior and expectations, as well as by addressing new target groups. Thanks to migration to MPEG-4 compression standard, Polsat Group is able to offer a broader range of programs to our existing and potential customers, with a simultaneous improved signal quality.
With the development of the market and technologies, the choice of devices for which we can produce and distribute television content has expanded significantly. The number of mobile devices, like laptops, tablets and smartphones, owned by customers increases rapidly. This is a prospective market segment for, inter alia, TV services. Furthermore, we see the potential for market growth in the group of Polish households equipped in more than one TV set, as well as in the low ARPU market segment.
VIDEO ONLINE - IPLA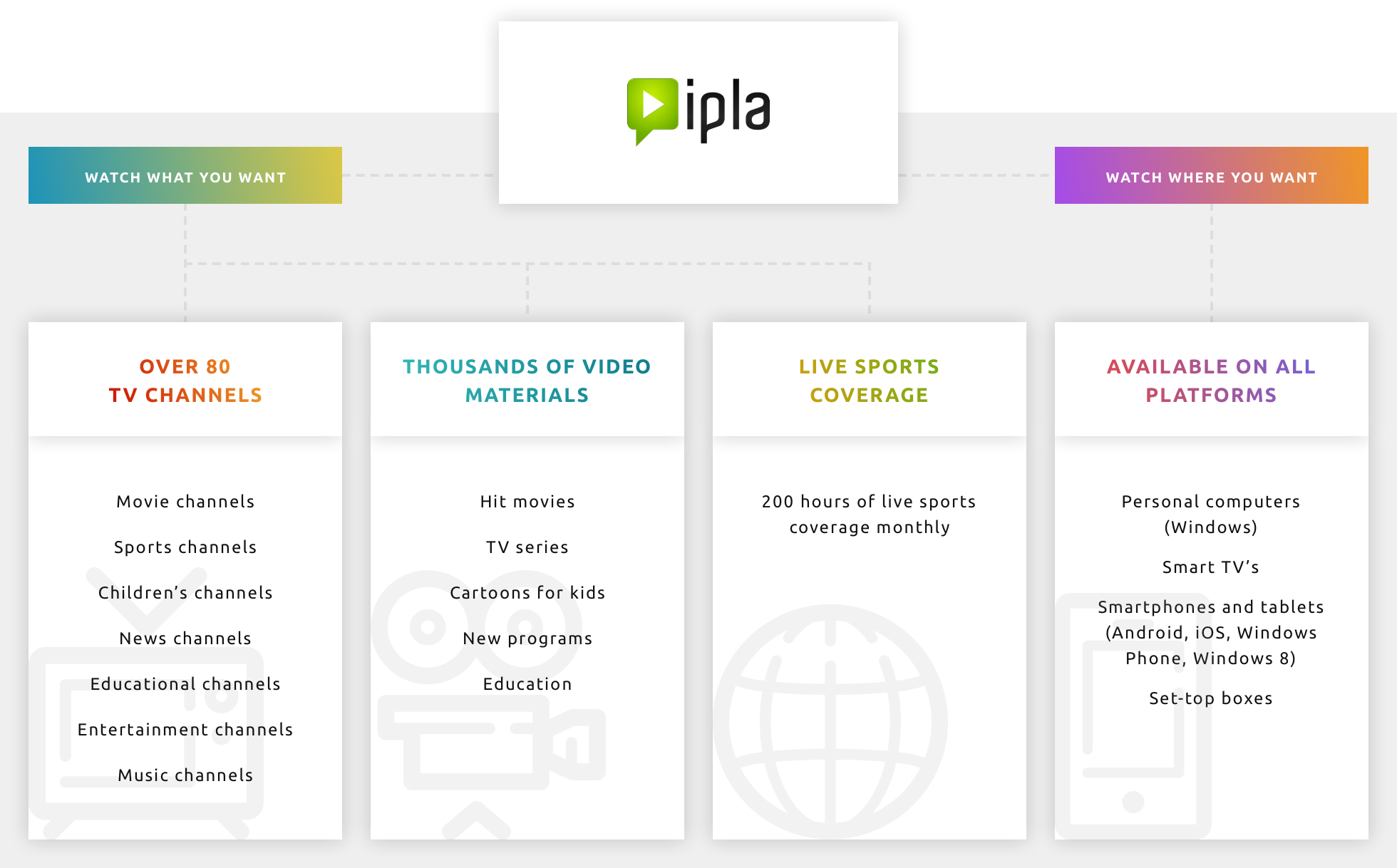 Watch what you want
IPLA is the leader of online video market in Poland, with the biggest legal base of TV content. It offers over 80 channels and several dozen thousands of VOD materials, including 147 TV series and programs from several dozen TV stations. IPLA also offers around 200 hours monthly of coverage from major sports events, news programs, several hundred movies, kids cartoons, as well as entertainment and educational programs.
IPLA content is offered in several packages: IPLA SPORT, IPLA FILMY i SERIALE (movies and TV series), IPLA DZIECI (for kids), IPLA WIEDZA and NEWS (knowledge and news), IPLA ROZRYWKA (entertainment), IPLA ELEVEN SPORTS and IPLA EXTRA. The packages can be activated for periods of 30 or 90 days. Users can also enjoy the possibility of purchasing 48-hour access for individual items.
Watch it on any device you like
IPLA materials can be viewed on PC's, tablets, laptops, smartphones, smart TV's, as well as via set-top boxes and game consoles.
90% of IPLA content is available for free (with commercials),
All materials are legal
In 2016 IPLA showed many new programs which make it stand out in comparison to other VOD services in Poland.
Several dozen new channels. Apart from thousands of video-on-demand materials, popular films, TV series, cartoons for kids, as well as the richest in Poland offer of legal coverage of sports events, news programs and TV journalism, one can also watch more than 80 TV channels live on smartphones or tablets while using a dedicated application! New items added in 2016 include channels featuring sports, films and soap operas, entertainment-and-lifestyle programs, travel programs, nature and scientific programs, music as well as kids programs.
Content saving function. The new versions of IPLA mobile application from 2016, for Android and iOS devices, have been enriched with a function which enables video content to be downloaded directly to a device. Once the selected materials have been recorded, a user may play these back during the next 48 hours, even in places with no Internet access or where Internet access is restricted, like on airplanes, in forests, at a lakeside or in the mountains. The solution enables users to save their data bundles while having access to their favorite content in all situations. The materials which are available in various packages include such items, offered for starters, as the most interesting and the most popular TV series from Telewizja Polsat, including Przyjaciółki (Friends), Pierwsza miłość (First Love), Świat według Kiepskich (The World According to Kiepski), Kabaret na żywo (Live Cabaret), Dlaczego ja (Why me?), Trudne sprawy (Difficult Matters), Zdrady (Infidelity), Pielęgniarki (Nurses), Ewa gotuje (Eva's Cooking Show), Nasz nowy dom (Our New Home) (all in all over 7 thousand VOD items), as well as short and feature films for kids (over 350 VOD items). Recently the library of content available for downloading has grown to as many as 40 thousand items.

On the territory of Poland video materials can be saved by users of IPLA EXTRA package (it includes the option of downloading of materials from Telewizja Polsat, films for kids and selected free content). Abroad the option is available to users of IPLA WORLD (which enables downloading of e.g. popular soap operas produced by Telewizja Polsat).The content which is available for downloading is marked with a relevant symbol (download) which is visible from the application level (Android or iOS app).
IPLA iOS application is the only Polish VOD application which can be purchased directly from AppStore. Other applications require a user to "exit" the app and go to a www page. The application can be downloaded from AppStore.
In 2016 IPLA showed numerous sports events, including UEFA EURO 2016 matches, popular KSW galas, Polsat Boxing Night Adamek vs Molina gala, other world boxing galas, PlusLiga volleyball matches, Bundesliga football matches, Ekstraklasa (Polish Premiership) football matches, EHF European Man's Handball Championship matches, Wimbledon tournament, Formula 1 races.
Users could also watch such new seasons of popular series as: Mad Dogs, The Player, Hannibal, Heroes, Crossing Lines and also sneak previews of TV series from Polsat's new program schedules, namely Przyjaciółki (Friends), Świat według Kiepskich (The World According to Kiepski), Pierwsza miłość (First Love), Zdrady (Infidelity), Trudne sprawy (Difficult matters) as well as the latest proposals of Polish and global film producers, including: Wołyń, Kochaj (Love), Moje córki krowy (These Daughters of Mine), Planeta singli (Planet Single). Entertainment shows were also very popular, i.e. Must Be The Music (Spring 2016), or Rybnicka Jesień kabaretowa Ryjek 2016 and Zielonogórskie Kabaretobranie (cabaret shows), anniversary performances by such cabarets as NeoNówka and Grupa Mocarta, as well as concerts: Disco Polo pod Gwiazdami (Disco Polo under the Stars), Legendy Popu (Pop Legends).
While not forgetting about deaf people and people with impaired hearing, IPLA has developed the function of subtitles and extended its library of the content with subtitles by adding further proposals from the offer of Telewizja Polsat and providing access to them at www.ipla.tv. At present www.ipla.tvseveral hundred items with subtitles are available. They marked with a special icon, which facilitates their identification, and the number these items continues to increase.
Average monthly number of IPLA users is 3.8 million.