2016 was yet another successful year for Cyfrowy Polsat Group, during which we have achieved our key business goals. We have consistently pursued the adopted strategy, aimed atstrengthening our position on the integrated services market while at the same time working towards rearranging the Group's structure and achieving deeper integration.
One of last year's major events, and at the same time a crucial element of our strategy, was the acquisition of Midas/Aero2 Group. This transaction enabled us to concentrate within the capital group all key assets which consist of unique radio spectrum, on which we rely to provide state-of-the-art broadband Internet access services in LTE and LTE-Advanced technologies, as well as telecommunication infrastructure, which perfectly supplements our existing resources, and thanks to which we are able to assure 2G, 3G and LTE network coverage for nearly the entire population of Poland.
In February we successfully completed the process of refinancing Cyfrowy Polsat Group's entire debt, initiated in September 2015. The Group's new debt structure is characterized by notably more favorable financial terms and it guarantees greater flexibility in terms of both the Group's current operating activities and its capital expenditures. The significant decrease of interest costs, which we expect to continue in the coming year, contributes to the growth of our potential of free cash flow generation.
PLN 224.4m
Decrease of the Group's interest-related costs in 2016
We systematically continue the development of bundled services for the home
In 2016 we continued developing our offer of bundled services, currently communicated under the slogan smartDOM Home Savings Program. The program offers a broad portfolio of nine products and services for every home. Apart from our flagship, core services, i.e. Plus mobile telephony, LTE Plus and LTE Plus Advanced Internet access and Cyfrowy Polsat satellite TV (DTH), we also offer electricity and gas supply, banking and insurance services, home security services, as well as telecommunication devices, consumer electronics and household appliances. One of the main and invariable rules of our smartDOM program is the simple relation – the more products and services a customer has, the more he can gain thanks to the discounts offered on each additional product.
In an effort to improve customer satisfaction, we are committed to meeting the evolving consumer needs and expectations. We not only continuously enrich our pay TV offer but we also invest in the development of modern content distribution channels. We have launched an online platform - Cyfrowy Polsat GO- thanks to which our customers can enjoy online access to a wide array of linear channels as well as content offered on demand anywhere and anytime, on a device of their choice. We have expanded the offer of IPLA, the largest internet TV in Poland, by adding nearly 40 new channels, thus granting its users even more freedom and flexibility in terms of access to online content.
We remain the numer 1 player on the polish tv broadcasting market
In 2016, TV Polsat channels were leaders in terms of audience shares in the commercial viewer group thanks to which our advertising and sponsoring revenues grew nearly four times faster than the overall market dynamics. In 2016, the multi-channel coverage of the UEFA EURO 2016 European Football Championships significantly influenced the operating and financial performance of the TV broadcasting and production segment.
The launch of the Digital Artists Zone also constituted an important event in 2016. This platform designed to enhance cooperation with artists is the first step on the path to implementing our plans of entering a new field - film production and distribution.
Operating results
In 2016, we consistently and successfully pursued our strategic goals, which was reflected in very good operating results of both of our business segments.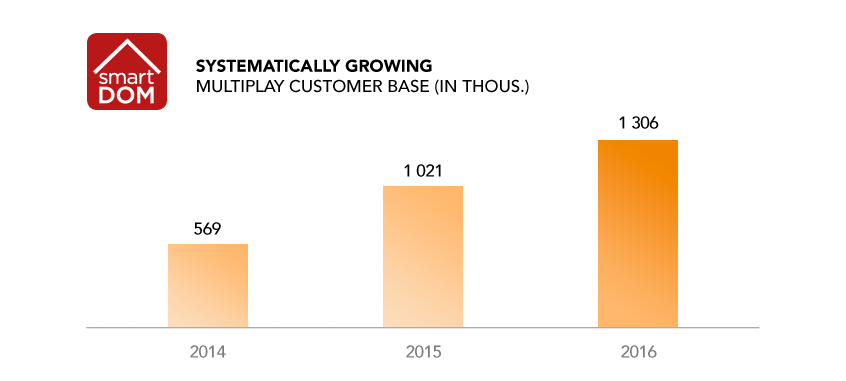 Stable contract customer base and growing ARPU
In accordance with our strategic assumptions, in the segment of services to individual and business customers the Group focuses on enhancing customer loyalty, especially by offering an extensive portfolio of bundled services and on building ARPU generated by contract customers. We have a stable base of contract customers which numbered 5.9 million at the end of 2016.
Strong growth of contract services
At the end of 2016 contract services accounted for 80% of all services provided by us (in excess of 16.5 million) while their number increased by 5.1% YoY, reaching 13.3 million. We observed growth in the number of services across all categories of services provided in the contract model, i.e. broadband Internet access – by 10.2%, to the level of 1.8 million, pay TV – by 5.8%, to 4.8 million, and mobile telephony – by 3.3%, to 6.7 million. The drivers behind the growth dynamics in this segment in 2016 included the effective pursuit of our strategy of up-selling services to individual customers, as well as the intensified migration of prepaid users to contract tariffs, associated with the regulatory changes that imposed mandatory registration of prepaid SIMs.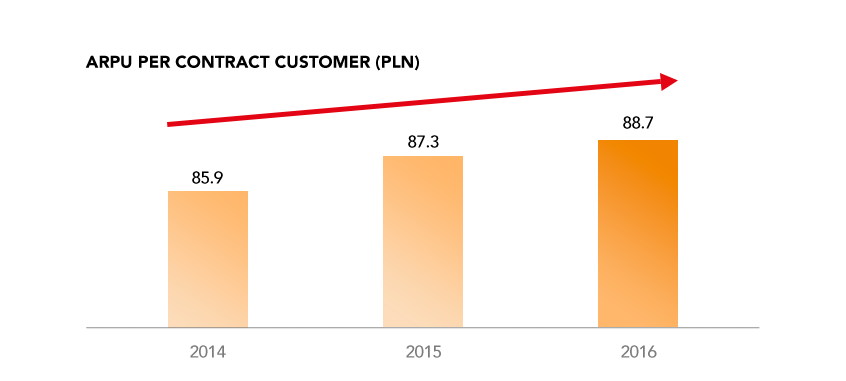 Success of the multiplay strategy
We are striving to maximize the revenue per contract customer by cross-selling products in the combined customer bases of Cyfrowy Polsat and Polkomtel, including by means of the smartDOM program. Our offer of combined services enjoys unwavering interest while recording very good sales results, which has positive impact on RGU saturation per customer, contract ARPU and churn. At the end of 2016 we had 1.3 million customers of our integrated services offer who had nearly 3.9 million RGU's in total. This meant that as many as 22% of our contract customers decided to go for our offer of combined services.
The success of our multiplay strategy translates to successive ARPU growth in the segment of contract services as well as systematically growing customer loyalty. In 2016 the average revenue per contract customers was PLN 88.7 in our Group, demonstrating growth of 1.6% YoY. The high level of satisfaction of customers with the services we provide was reflected by a very low churn ratio. In 2016 we recorded annual churn ratio of 8.3% only, which is one of the best results in the industry.
Changes on prepaid market
In 2016, the Polish market of prepaid telecommunication services remained under the influence of external regulations. Similarly as in the case of other mobile operators, a 15.2% depletion of our prepaid customer base was associated mainly with the introduced statutory duty of registration of new prepaid SIM cards which took effect from July 25, 2016. The registration duty led to a substantial decrease in the number of new activations in the second half of 2016, observed across the whole market. At the same time, we saw a positive trend of intensified migration of prepaid customers to postpaid offers. In 2016, ARPU from prepaid services increased by 3.8%, to the level of PLN 19.2.
Growth of revenue from TV advertising and sponsoring
In 2016, our main channel POLSAT and the Group's thematic channels were market leaders in terms of audience shares in the commercial group, gaining shares of 13.2% and 11.6% respectively. Excellent viewership results were reflected in very good financial results of the broadcasting and TV production segment. It is noteworthy that our Group's TV advertising and sponsoring revenues increased by 5.6% YoY while the market grew at the pace of 1.3%.
Financial results
Following the acquisition of Midas/Aero2 Group and the consolidation of its results starting from February 29, 2016, in order to assure a better and more comprehensive view of Cyfrowy Polsat Group's business operations, below we present the Group's pro forma financial results for 2016 and a comparison to the pro forma results for 2015.
Total revenue remains stable ….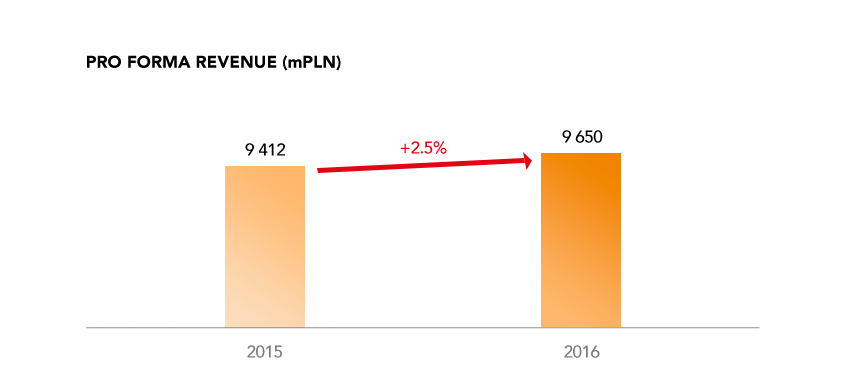 In 2016, our total revenue, calculated on a pro forma basis, increased by 2.5% YoY, reaching PLN 9.7bn. The underlying factors included growing revenue from equipment sales as well as growing wholesale revenue, which was partly offset by lower revenue from retail customers.
Growth of revenue from the sale of equipment by 45% on an annual basis was mainly the outcome of higher revenue from sales of telecommunication equipment to our customers based on the installment-plan model. Higher interconnect revenue and higher revenue from advertising and sponsoring, achieved by our thematic channels as well as by the main channel, translated into growth of pro forma revenue from wholesale operations by 8% YoY in 2016.
The positive influence of the above factors was partly offset by a 3% decrease in retail revenue from residential and business customers. This decline was manly driven by lower revenue from voice services resulting from a change in the model of offering equipment to residential customers, the regulation of retail roaming rates, as well as a high level of competitiveness of the telecommunication market. This effect was partly compensated for by higher revenue from pay TV services, as well as growing revenue from mobile broadband access and data transmission.
…while operating expenses are under control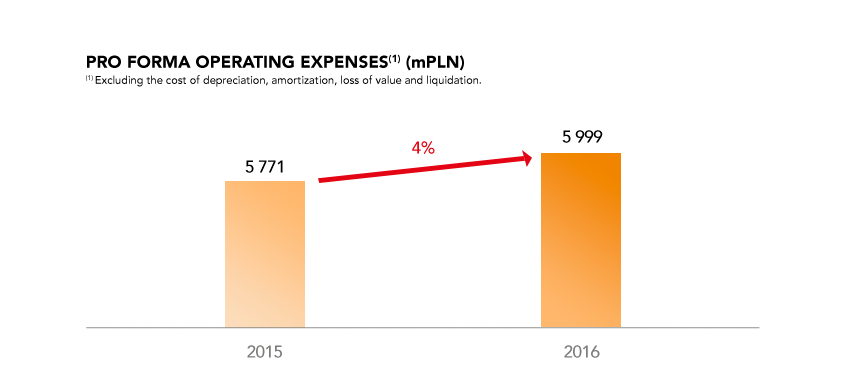 In 2016 our pro forma operating expenses amounted to PLN 6bn and were mainly driven by higher technical costs and higher costs of interconnection settlements, as well as higher costs of content.
Growth of technical and interconnection costs by 7% annually on a pro forma basis was the effect of higher IC costs, which resulted from increasing popularity, among our customers, of tariffs offering unlimited connections to other telecommunication networks.
Growth of content costs by 5% YoY on a pro forma basis resulted mainly from the recognition of costs associated with coverage of the UEFA EURO 2016 European Championship matches, as well as the qualifying matches for the 2018 FIFA World Cup.
…which results in strong and stable EBITDA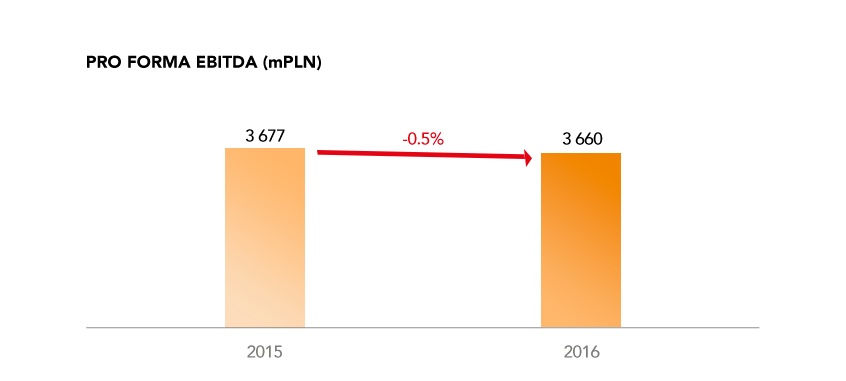 Higher than expected free cash flow
Thanks to stable revenues and operating expenses in 2016, our pro forma EBITDA also remained on a stable level, exceeding PLN 3.6bn, which is a significant success taking into account the intense competition on the markets on which we operate.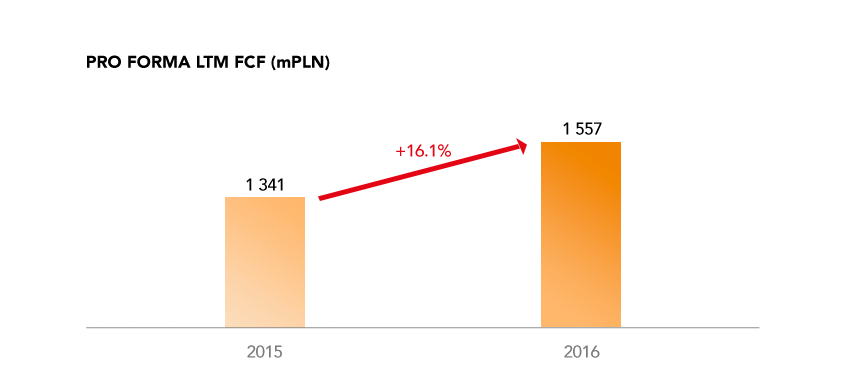 In 2016 we generated strong stream of cash flow of PLN 1.6bn (pro forma). The achieved result was by 16% higher than a year earlier and it exceeded market expectations. Our potential for strong cash flow generation is supported by high EBITDA and a decrease in interest costs, resulting from the systematic reduction of the Group's debt.
In 2017, we expect Polsat Group to achieve adjusted LTM FCF at a level not lower than in 2016.
Debt reduction remains the priority for the Group
We consistently pursue a deleveraging policy in our Group. In early 2016 we completed the process of refinancing the Group's debt by executing an early redemption of high yield Senior Notes denominated in foreign currencies. Thanks to this we have not only reduced the Group's exposure to exchange rate risk but we also managed to substantially reduce the costs of debt servicing. The savings that the Group achieved on interest thanks to debt refinancing amounted to PLN 224.4 million in 2016, which was equivalent to a reduction of interest-related costs by over 29% YoY.
At the end of 2016 our net debt amounted to PLN 11.1bn and was fully denominated in Polish zloty. The net debt to EBITDA ratio continued to decrease throughout 2016 following the financing of the acquisition of Midas/Aero2 Group, and it amounted to 3.06x.
Objectives for 2016 have been achieved
Finalization of the acquisition of Midas shares and effective integration of Midas into the Polsat Group structure
Growth in the number of contract RGUs implying growth of contract ARPU
Growth of viewership figures of Polsat channels and highly dynamic growth of advertising revenues, augmented by the commercial success of the UEFA EURO 2016 project
Maintenance of high margins, debt reduction and improved FCF levels