POLKOMTEL
POLKOMTEL – leading telecommunication operator in Poland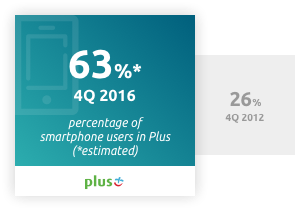 Polkomtel Sp. z o.o. is the leading telecommunication opertor in Poland who provides its services under the Plus brand. The company is the leader of LTE technology and relies on the most advanced telecommunication solutions while developint services for its customers:
Our residential contract offer is standardized and includes a variety of contract plans. Currently, it is available in the postpaid and prepaid model as well as in the mix offer (a combination of a prepaid and postpaid offer)
Contracts are concluded for a fixed term - typically 24 months.
Contract plans give customers the possibility to choose from a broad selection of handsets offered in the installment plan model. Customers can also select a tariff without a handset. The subscription fees range from PLN 29.99 to PLN 119.99.
Business customers are mainly offered contract solutions, often on the basis of solicited tenders for their mobile requirements on a competitive basis. We also offer fixed telephony services, LAN (local area network)/WAN (wide area network) solutions, mobile broadband Internet access, SMS Center services and other dedicated solutions. Business contracts specify the tariff, contract duration and the value of the monthly subscription fee. The contract may provide for a subsidized handset that can be chosen from a broad selection of available models.
Business mobile voice services for SOHO (Small Office/Home Office) customers are more standardized. The offering comprises several monthly subscription fee options, taking into account the specific preferences of this segment. Small Office/Home Office contracts have a fixed term, which is usually 24 months.
We provide international roaming services to our individual customers, who can use telecommunications services while being abroad and logged on to foreign networks. Vodafone is Polkomtel's key partner in retail international roaming.
Plus offers a wide array of state-of-the-art handsets and smartphones from such leading manufacturers as: Samsung, Huawei, Apple, Sony, LG but our offer also includes low and mid-end handsets of smaller manufacturers. The share of traditional handsets remains in a declining trend and amounts to several percent of total sales. Handsets are sold in two sales models: the subsidized model and the installment plan model (with or without an initial fee).
In 2016, smartphones constituted over 90% of handsets sold by us. As a result, at the end of 2016, the penetration of our voice customer base with smartphones reached 63% and continued to grow successively.
Mobile telephony market in Poland
The Polish mobile telephony market is a mature one. Based on data published by the Central Statistical Office of Poland (GUS), the number of mobile telephony SIM cards as at December 31, 2016 reached 54.7 million, which translates into a penetration rate of the population of Poland of 142%.
Over the past two years, the reported rate of penetration with SIM cards in Poland has decreased considerably (from the level of 153% according to the data of the Central Statistical Office of Poland (GUS) as of September 31, 2015), which should be explained by treating the number of reported SIM cards in a more realistic way, corresponding to the actual use of such cards by Polish customers and which was a result of the change of policy of reporting SIM cards introduced by one of the big mobile operators at the end of 2015 as well as the new regulatory restrictions introduced in 2016 related to the sale of new SIM cards in the prepaid model.
According to the UKE data, published in the "Report on the telecommunications market in Poland in 2015" (hereinafter "UKE report"):
The total value of mobile telephony market in Poland, estimated at PLN 39.5 billion, has increased for the first time in a few years;
In 2015 81% of revenue from mobile services was generated by postpaid service customers;
At the same time, however, prepaid cards accounted for as much as 41% of the SIM cards reported by Polish mobile operators at the end of 2016, which in our opinion proves that the size of prepaid bases reported by the operators was still being distorted by including, in the reported statistics, the cards which generate neither real traffic, nor revenues.
It is worth mentioning, that the Polsat Group very early decided to report only active cards which actually generated any traffic during the previous 90 days, arguing that this method of reporting improves transparency and credibility of published data. As of the date of preparation of this Report, however, reporting of prepaid SIM cards based on actively used cards has not become a generally applied practice on the Polish market.
PMR expects that, after the corrections introduced in the years 2015–2017, making the volume of SIM cards on the market more realistic, the number of reported SIM cards used in Poland will return to the growth path at the pace of 2.2% per annum (CAGR 2017-2021). In the opinion of PMR, the growth will continue to be generated by the mobile Internet segment, machine-to-machine cards and business segment.
Four Biggest Operators
Polish mobile telephony market is relatively polarized and highly competitive. Four leading infrastructural operators operate on the Polish market. Based on UKE (Office of Electronic Communications) data, 99.4% of total revenues generated on Polish mobile market in 2015 can be attributed to Polkomtel, Orange, T-Mobile Polska and P4. The remaing part of the revenue was generated by MVNO's and other MNO's.
Polkomtel (Plus network) – 25.8% market share; it operates under Plus umbrella brand and also owns an alternative brand called Plush. On May 7, 2014 Polkomtel was incorporated into Polsat Group.
Orange Polska (Orange network) – 287% market share; it operates under Orange umbrella brand and also has an alternative brand called nju.mobile. As of December 31, 2016 Orange reported ca. 16.0 million SIM cards. Apart from the operations on the mobile market, Orange Polska is also the leading Polish fixed-line telephony operator, currently focusing its strategy on the development of broadband access services based on the fiber optic infrastructure, also delivered to residential customers.
T-Mobile Polska (T-Mobile network) – 20.1% market share; it operates under T-Mobile umbrella brand and also uses additional brands such as Heyah, Blueconnect and Tu Biedronka. As of December 31, 2016, T-Mobile reported 10.6 million SIM cards. T-Mobile is currently providing fixed-line telephony services addressed to business customers based on the infrastructure of GTS Poland which it acquired in 2014.
P4 (Play network) – 25.4% market share. P4 operates under Play umbrella brand, and also has additional brands Red Bull Mobile and Fakt Mobile. As of December 31, 2016, P4 reported 14.4 million SIM cards. P4 operates solely on the mobile services market, supporting itself with a wholesale purchase of access to mobile networks of its competitors.
In addition there are 20 MVNO's on the market but their share, both in terms of revenue and customer base, is relatively low (3.2% in terms of numer of users in 2015 according to a report published by UKE).
Five mobile network operators (MNO) operate commercially in Poland. The operators have their own radio spectrum and technical infrastructure which enables them to provide mobile services on their own. They include: Polkomtel, Orange, T-Mobile, P4 and Aero2 Group. Both, Polkomtel and Aero2 Group are currently part of the Polsat Group.
Aero2 Group operates on the wholesale market through Aero2 and Sferia, providing wholesale access to its network mainly to Polsat Group. At the same time, Aero2 operates on the residential market, where, in line with its license obligations, it offers free-of-charge broadband Internet access and provides residential services in the prepaid model based on "wRodzinie" and "a2mobile" brands, while Sferia provides telecommunication services to residential users based on its "Sferia" brand. As of February 29, 2016, both Aero2 and Sferia are part of Polsat Group.
INTERNET LTE PLUS
We provide a comprehensive data services to both residential and business customers under two main brands: Plus and Cyfrowy Polsat. In the Mobility Trends 2016 plebiscite Cyfrowy Polsat and Polkomtel were awarded Golden Bells (Złoty Bell) in the categories "Mobile Internet - 2016 Best Offer" and "2016 LTE Operator of the Year", currently also offering LTE Advanced.
In return for a single monthly fee our offer includes broadband Internet access relying on all supported data technologies. Thanks to this, nearly 100% of Poles live within the coverage area of our LTE Plus Internet service, while 99% of them can enjoy our LTE Plus internet service.
At the beginning of 2017, 40% of Poles were within the coverage footprint of our LTE Plus Advanced Internet service, which offers data transmission speed of up to 300 Mbps.
We offer several data plans with different allowances and price tiers, tailored to customers' individual needs.
Customers deciding to use our data services may choose between dedicated contract plans, prepaid plans, as well as data packages offered as an addition to voice tariffs.
Contract price plans offer basic mobile broadband access. In return for a monthly fee they offer either a limited data allowance or unlimited access to data transmission in LTE network. Customer contracts are concluded for a specified period of time, usually for 24 months. While using our offer, customers may purchase or lease Internet access devices (including dongles, fixed and mobile routers). In addition, our offer also includes other devices, including laptops and tablets, available in an installment plan arrangement, as well as offers without equipment ("SIM only")..
The prepaid model is represented by Ja+Internet na Kartę offer – upon topping up the prepaid account the customer is offered a specific data allowance whose size and validity depend on the top-up amount.
Plus and Cyfrowy Polsat have also introduced the ODU-IDU offer, as an alternative to fixed-line Internet access. The offer features an LTE Plus Home Internet set which consists of an outdoor LTE modem (ODU) and an indoor router WI-FI (IDU). The devices enhance the efficiency of LTE Plus network coverage while enabling use of high speed data transmission in the places where it has so far been unavailable.
Standard LTE Plus Internet access offer is accompanied by various bonuses which depend on the monthly access fee amount, for example access to IPLA or HBO GO packages.
Development of LTE technology
LTE technology is characterized by much lower latency and has the capacity to support a greater number of users. The potential of the LTE technology is based on greater capacity and transmission speed with lower latency, which enables LTE Internet service customers to use interactive and multimedia applications requiring more bandwidth and transmission in real time, such as online games, video communication and HD TV over the Internet. The dedicated LTE frequency bandwidth that we use enables us to offer services with transmission speeds of up to 150 Mbps for download and 50 Mbps for upload. Upon aggregating selected bandwidths, while using Carrier Aggregation, we can significantly increase data transmission speed available to end-users.The maximum data speeds depend on the quantity of aggregated radio bandwidths.
Polsat Group provides the LTE service based on a continuous 20 MHz block in the 1800 MHz band. Since 2015 we additionally use the network based on a 5 MHz block in the 800 MHz band which, when combined with the subtantially intensified roll-out of the LTE 1800 network in the second half of 2016, allowed us to increase the coverage of mobile LTE Internet service offered by Cyfrowy Polsat and Plus to the level of 99% of the population in January 2017.
Concurrently, we began the aggregation of our 800 and 1800 MHz bandwidths, as well as the newly acquired 2600 MHz bandwidth. As a result, we offered our customers the LTE-Advanced technology which enables data transmission with maximum speed of even 300 Mbps. In January 2017 LTE Plus Advanced was available to over 40% of Poles.
Polsat Group network
Telecommunication services are provided with the use of radio infrastructure of the Group's subsidiaries, Polkomtel, Aero2 and Sferia in particular.
Our Group operates an integrated 2G, 3G and 4G mobile communication network. The Group's network supports GSM/GPRS/EDGE (2G), UMTS/HSPA+/HSPA+ Dual Carrier (3G) and LTE/LTE Advanced (4G) technologies. We also have an extensive CDMA network.
Automatic switch-over between technologies, which is supported by mobile telecommunications networks, ensures uninterrupted service functionality for end users, while parameters such as data transfer rate improve when a user enters the coverage area of a more technologically advanced network.
As of December 31, 2016, Polsat Group's 2G access network consisted of 6,909 base stations, while the 3G network consisted of 9,601 NodeB (UMTS/HSPA+) stations (including 3,687 HSPA Dual Carrier stations). The CDMA network included 575 base transceiver stations. Moreover, the LTE network included 8,848 node B's supporting LTE /LTE Advanced technologies, with 3,482 of these stations operating in the 800 MHz frequency band.
Polsat Group's access network is supported by an appropriate backhaul network, using mainly packet data transmission technologies. The network is divided into the access layer (180 Mbps, 360 Mbps and 1 Gbps microwave links, and fiber optic links), an aggregation network (mainly fiber optic, using Carrier Ethernet Transport (CET) MPLS-TP technology, mainly 10 Gbps), and a backbone network (solely fiber optic, using the IP/MPLS technology, with bit rates being multiples of 10 Gbps, and since 2014, also of 100 Gbps).
The backhaul microwave network is composed of 7,719 PHD links. The aggregation layer of the backhaul network is composed of 573 nodes with high-capacity CET switches, and the backbone layer has 11 nodes with redundant IP/MPLS routers. 75 DWDM nodes operate in the physical layer, all equipped with facilities enabling traffic transmission at a multiple of the 100 Gbps bit rate (the multiple is adjusted to current needs of a given node). The transport network is used to provide dedicated services to the business segment, such as virtual private networks (with broadband Internet access), PBX's (private branch exchange) and leased lines.
Polsat Group's fiber optic network comprises 4,368 km of our own fiber optic cables and 4,250 km of leased fiber optic lines.
Network roll out
In light of extremely high price levels reached in the LTE auction, ended in 2016, we decided that potential cooperation with entities who won the 800 MHz frequency blocks would be financially inviable and irrational, both for the Group as well as for our customers. Therefore, we have decided to invest in further development of our LTE network based on the frequencies currently owned and utilized by Polkomtel and Aero2 Group, comprising 900 MHz, 1800 MHz, 2100 MHz and 2600 MHz frequency bands.
We expect that the roll out of the LTE network based first and foremost on a continuous 20 MHz block in the 1800 MHz band, densification of the network of base station locations, a clear increase in the number of active transmitters and the application of the unique ODU-IDU technology (Outdoor Unit Indoor Unit) will allow us to maintain our competitive advantage in terms of quality of our mobile Internet service. The planned process of refarming of the 900 MHz and 2100 MHz spectrum constitutes another important solution, in consequence of which part of the spectrum currently used to provide 2G and 3G services will be allocated to the cutting edge LTE/LTE-Advanced technologies.
As a result, we expect to achieve further improvement of the quality of the Internet access service provided by us. Concurrently, the level of capital expenditures required to execute the planned roll out of our mobile network will be significantly lower compared to the cost of purchase of the 800 MHz spectrum in the LTE Auction. Ultimately, this may translate into more attractive services and prices for customers than in the case of a network rollout based on the 800 MHz frequency band.