Polsat Group is the leading integrated media and telecommunications group in the region.
We are the biggest provider of pay TV services in Poland and a leading DTH provider in Europe in terms of customers.
Since 2006, Cyfrowy Polsat has been the leader of the Polish market in terms of number of active pay TV (DTH), Internet access and telecommunication services and market share.
Polkomtel, who focuses on provision of mobile telecommunication services under Plus brand, is one of the leading telecommunication operators in terms of the value of generated revenues and the size of the contract base of mobile telephony and tmobile broadband Internet access services.
In 2016 Cyfrowy Polsat was the leading TV group in Poland in terms of the growth dynamics of advertising revenue and audience shares, while the main channel, Polsat, maintained its leading position in viewership during the period.
Our pay TV, mobile telephony and Internet access services are sold through a distribution network with nationwide coverage. Cyfrowy Polsat has a total of over 1.2 thousand stationary points of sale countrywide. We simultaneously offer our services via telesales, door-to-door channels as well as online store. Polkomtel has its own, separate B2B sales and support channels, as well as an extensive prepaid distribution network.
We have strong brand recognition and good reputation among our customers and viewers
Our brands, i.e. Cyfrowy Polsat, Plus, Telewizja Polsat and IPLA, are well recognized by Polish consumers and they are associated with high quality and value-for-money services for entire family.
According to a GfK Polonia survey from October and November 2016, assisted brand awareness of Plus brand was 98% in the voice services segment and 88% in the data segment. Also on the pay TV market, the survey conducted by GfK in November 2016 demonstrated that Cyfrowy Polsat was the most recognizable pay TV provider, with spontaneous and aided brand awareness indicators of 75% and 95% respectively.
In 2016 Polsat Group's advertising sales office, Polsat Media, was once again very highly assessed in the ranking of TV advertising sales offices prepared by Millward Brown, at the request of Media & Marketing Polska. In the above mentioned ranking, Polsat Media earned the highest scores in three dimensions, which are the most crucial from the point of view of media houses, out of eight dimensions presented. These dimensions were: I trust them – they offer me the feeling of security, fast and exhaustive response to a brief and they act flexibly and efficiently when changes occur in an advertising campaign.
We have a significant customer base in Poland to which we can up-sell a broad portfolio of services
Polsat Group has a significant base of unique customers, consisting of the individual customers of Cyfrowy Polsat and Polkomtel, business and corporate customers, as well as prepaid users. This base includes 5.9 million unique customers who use contract services which generate regular monthly revenues. The Group's strategy assumes up-selling services to this base from an extensive portfolio of telecommunication, television and other services which are provided the Group's companies independently or in partnership with other entities, in order to increase the amount of revenues generated by unique customers. We believe that up-selling of services to our own base will enable us to increase the revenue in a cost-effective way, while simultaneously offering to our customers attractive price terms, which should increase their satisfaction and loyalty.
A unique combination of integrated services
Integrated services offered by Cyfrowy Polsat Group include above all satellite pay TV (DTH) services, Internet access and telecommunication services. The group also offers attractively-price electrical power supply, natural gas as well as banking, insurance or home security services.
Cyfrowy Polsat is the only DTH operator in Poland to offer full multi-play services, which gives it a significant competitive edge on the Polish pay DTH market. We are the only telecom operator in Poland who provides full multi-play services which include pay DTH services provided while relying on own assets and infrastructure, which ensures higher price elasticity and more effective operation on a competitive market.
Provision of services in an integrated model enables us to offer attractive price terms to the customers, while simultaneously simplifying the process of customer service, which should translate into improved of customer satisfaction and loyalty. We believe that, similarly to highly-developed European countries, preferences of Poles will go in the direction of multi-play services, which will strengthen the Group's competitive advantage.
Cyfrowy Polsat Group is the leader of Internet access services in LTE technology
Internet access services in LTE technology offered by us are provided based on the unique, in Poland, continuous 20 MHz block of spectrum from the 1800 MHz frequency band. The quality of the LTE service provided by the Group has been confirmed by numerous independent consumer surveys and tests which demonstrated that Plus and Cyfrowy Polsat customers use the fastest mobile Internet access service in Poland.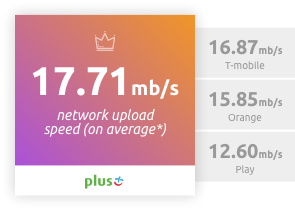 Currently, the Group is aggregating spectrum from the 800, 1800 and 2600 MHz frequency bands, which allows us to offer to our customers, commercially, the services which are based on the LTE-Advanced technology, offering maximum data transfer rates of up to 300 Mbps. In January 2017 already as many as 40% of Poles could use services in LTE-Advanced standard, while the coverage of our LTE network extended over an area inhabited by 99% of Poland's population.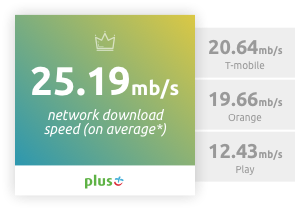 According to a UKE (Office of Electronic Communications) survey of mobile services performed in 2015, Internet access offered by Plus was the fastest in the category of data transmission, with the average download rate of 25.19 Mbps. That is two times faster than in the case of Play and 25% faster than in the case of T-Mobile and Orange (download rates for T-Mobile and Orange were respectively 20.64 Mbps and 19.66 Mbps, while for Play the result was 12.43 Mbps). In addition Plus demonstrated the highest upload rate of 17.71 Mbps. In the case of other operators, the results were as follows: T-Mobile 16.87 Mbps, Orange – 15.85 Mbps, and Play – 12.60 Mbps.
Another survey commissioned by UKE, and published in December 2016, also confirmed that Plus network offered the highest data transfer rates. This time the survey was focused on main railway lines in Poland.
Multi-platform distribution of online video content and proprietary technology for internet content distribution
Our IPLA online video service makes us the only group in Poland to offer access to video content through a wide range of electronic devices, including PC's/laptops, tablets, smartphones, connected TV sets, set-top boxes, game consoles and home cinemas. Our objective is to provide access to an extensive range of audiovisual content through any device which supports playback of multimedia files received online. We strive to ensure that every platform will be supported by all major equipment manufacturers and operating systems.
Cyfrowy Polsat Group has also developed unique technological competencies in encoding and streaming the audiovisual content in the Internet, as well as optimizing the distribution of this type of signal. Thanks to our proprietary solutions implemented in IPLA online video platform, the services we provide are optimally adjusted to the limited Internet infrastructure in Poland and the capacities of external systems. This way IPLA can offer services of higher quality than the generally used solutions. For instance, our system of HD video stream encoding helps reduce the broadband required to deliver the signal by half as compared to the solutions implemented by other operators on the Polish market.
Hence, the optimized technology directly contributes to the success of Polsat Group's projects, the increase or their coverage potential and the number of concurrent viewers.
We control the process of production of set-top boxes
As the only operator on the Polish market we produce our own set-top boxes. We control the entire process of production of set-top boxes, from the hardware and software design phase to the production in our own factory as well as in our subcontractors' facilities. This enables us to produce high quality set-top boxes while incurring manufacturing costs which are noticeably lower than the price of purchasing such equipment from third-party providers. The functionalities of our set-top boxes are designed in line with the customers' expectations as analyzed by the surveys, so that we can be sure the equipment will meet their needs.
The biggest portfolio of TV channels in Poland is Polsat Group's competitive advantage
24 channels, including 14 channels offered in HD quality,
Entertainment sports, news, business, lifestyle, movie and children's channels,
Attractive content of our channels, wide choice of movies and TV series as well as entertainment programs based on our own concepts and international formats,
Contracts with major film studios, such as Sony Pictures Entertainment Inc., 20th Century Fox International Television, Inc., The Walt Disney Company, Warner Bros International TV Distribution
Wide selection of sports event coverage, including 2018 and 2022 FIFA World Cup as well as 2020 UEFA EURO qualifying matches, attractive volleyball matches and major volleyball tournaments – 2017 CEV Volleyball European Championship ( the men's tournament will be played in Poland), the Volleyball World League, Volleyball World Grand Prix, and the Volleyball Champions League – Men's and Women's, Plus Liga and Orlen Liga; boxing and mixed martial arts galas, Wimbledon and ATP 1000 and 500 tournaments, and many others.
High quality telecommunication infrastructure and broad portfolio of frequency bands
Cyfrowy Polsat Group provides telecommunication services through a high quality, state-of-the-art mobile network. The Group provides voice, data transmission and wholesale services, as well as a broad array of additional services based on our own integrated 2G/3G/LTE network. The Group holds spectrum reservations in an extensive portfolio of telecommunication frequencies, including 420 MHz, 800 MHz, 900 MHz, 1800 MHz, 2100 MHz and 2600 MHz bands.
Currently Cyfrowy Polsat Group is actively preparing for the process of refarming the spectrum in the 900 MHz band, which consists of substituting the 2G/3G technology with more efficient, state-of-the-art LTE technologies. Simultaneously the Group is aggregating frequencies in the 800 MHz, 1800 MHz and 2600 MHz bands and offers to its customers the LTE-Advanced technology, with maximum data transmission speed of 300 Mbps.
Thanks to the Group's mobile network, its telecommunication services can reach customers who live in less populated suburban and rural areas of Poland while incurring substantially lower costs than cable TV or fixed-line operators. This enables us to build a strong position in smaller cities and less urbanized areas of Poland and provide telecommunication services – in a cost-effective way – to the customers of Cyfrowy Polsat who mainly live in the aforementioned areas. Due to the high cost of network roll-out or starting of operations, as well as due to the regulatory barriers related to obtaining access to frequencies, we will continue to profit from our strong market position in these areas.
New entrants must overcome significant regulatory and operational barriers and acquire access to radio spectrum to compete effectively in the markets in which we operate
We believe that significant market entry barriers will enable the Group to maintain its leadership position in the key market segments. Unlike potential new entrants to the Polish pay TV market, Cyfrowy Polsat benefits from economies of scale and a loyal customer base, while spreading the relatively high cost of the necessary technology over a large customer base. Market entry to the mobile telephony market requires direct access to telecommunication frequencies and very expensive and time-consuming investments into telecommunication network or obtaining a paid access to the radio frequency via one of the four mobile operators. However, the significant majority of the radio spectrum allocated to mobile technologies has been nearly fully distributed among the current market players and a scenario assuming emergence of a new infrastructural operator seems to be very unlikely. The operators who provide mobile services while only relying on paid access to the existing mobile networks have so far failed to achieve the scale of business in Poland which could pose a significant competitive threat to us.
We have strong, stable and diversified cash flows
The Group generates revenue through two distinct revenue streams: the segment of the services provided to individual and business customers and the broadcasting and television production segment. In the segment of services for individual and business customers, our large customer base, the revenue from monthly access fees and the relatively low churn ratio provide significant predictability of our future revenue as well as strong recurring cash flows which have historically proven to be resilient even during periods of challenging economic conditions.
As regards the cost base, the Group focuses on improving its efficiency, while maintaining high quality of the services it provides, by embarking on the initiatives which are e.g. aimed at development of in-house services and systems. Examples include our own set-top-boxes manufacturing plant, proprietary IT solutions, or the centralization of selected back-office processes within the entire Capital Group.
We have experienced management team
Cyfrowy Polsat's management team consists of executives who have been members of management boards or served in other managerial positions within the media, TV and telecommunications industries and have extensive experience in these industries. In addition, our operations in both business segments are managed by teams of experienced senior managers who provide expertise and a deep understanding of the markets on which we operate. Our senior managers have a significant track record of increasing customer base and market share as well as launching new products in competitive environments while managing costs and increasing free cash flow