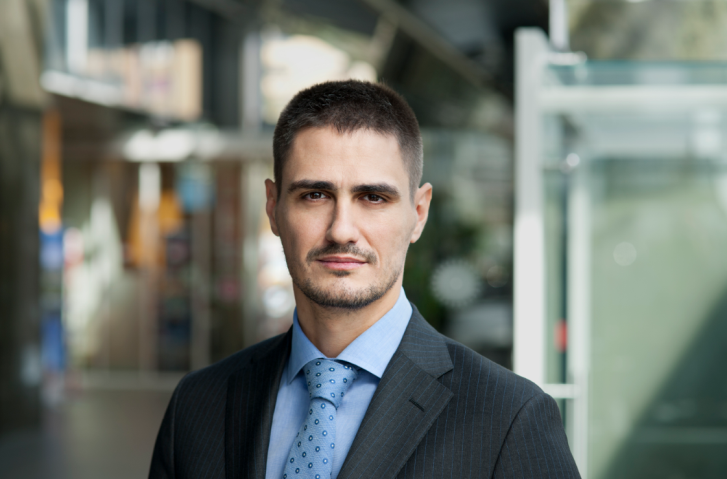 Ladies and Gentlemen,
I have the pleasure of presenting to you the Annual Report of Cyfrowy Polsat S.A. Capital Group for the year 2016 which presents our operating and financial results and which sums up numerous events which were extremely important for our operations.
Similarly as in the past, also last year we consistently pursued our strategy, continued the effective development of the smartDOM program and efficiently responded to changes in our business environment. This was reflected by growth of the Group's operating and financial results and contributed to strengthening our position as one of the leading groups on the market in the area of integrated services.
Being one of the biggest media-and-telecommunications group in the region, in 2016 we consistently pursued our business goals – we maintained a stable base of 5.9 million contract customers of our pay TV, mobile telephony and Internet access services, and we also noted growth of the number revenue generating units (RGUs) – to over 16.5 million, with 80% of that figure being subscription services. Successful completion of another year of our operations has also been confirmed by very good financial results - total consolidated revenue of Cyfrowy Polsat Group reached nearly PLN 9.7 bn, EBITDA was ca. PLN 3.7 bn while net profit amounted to PLN 1 bn. At the same time, we consistently reduced our debt, maintained high margins and increased free cash flows to nearly PLN 1.6 bn.
Along with the acquisition of 100% of shares in Midas S.A., the Group gained access to radio spectrum and telecommunication infrastructure which are of the utmost importance for our business. Moreover, the successfully-completed debt refinancing process enabled the Group to achieve substantial interest savings and increase its operational, financial and investment-related flexibility.
As usual, we continued the development of new products and services. The introduction of a new standard of mobile Internet access – LTE Plus Advanced – was one of the most important achievements. The new standard offers data transfer rates of up to 300 Mbps and covers a territory inhabited by more than 15 million people in Poland. Thanks to regular network coverage development, LTE Internet access can be enjoyed by practically all of the country's inhabitants. We have launched the service Cyfrowy Polsat GO, which offers access to 90 linear channels, live sports coverage as well as thousands of items offered on demand, and enables the subscribers of our satellite TV platform have gained the opportunity of watching content offered in their respective TV packages on many different devices while away from home. IN the past year we have also introduced a new set-top box to the market called EVOBOX PVR. It is the most advanced set-top box among devices offered by satellite TV operators in Poland. The new device has quickly gained recognition among both users and the industry, which was confirmed by numerous awards and distinctions it received, including the Gold Medal of the Poznań International Trade Fair or the Gold Medal – the Consumers' Choice award. Substantial development of the offer of the biggest online TV, IPLA, is another reason for pride. Users of the service can enjoy access to over 80 TV channels as well as to the most diversified, and at the same time legal, base of content offered on demand. We have also started operations in a new area of film production by launching Cyfrowa Strefa Twórców (the Digital Artist Zone), which is an integrated platform for communication with artists, scriptwriters and producers.
We successively continued the development of the biggest integrated offer on the market, i.e. the smartDOM program. Today we offer as many as nine products and services which customers can combine in a flexible manner and obtain savings on each purchased service. Last year the portfolio of the smartDOM program, comprising our flagship services, i.e. Cyfrowy Polsat satellite TV, Plus network mobile telephony, and LTE Plus and Plus Advanced Internet access, as well as additional services: electricity supply and banking services, were joined by insurance services, home monitoring solutions and household appliances, and most recently also natural gas for homes. I can say with satisfaction that our smartDOM program has been well-received in Polish homes and currently it is used by over 1.3 million customers who have more than 3.9 million contract services. One of the most important effects of the program is the growing satisfaction of our customers which is manifested by the decreasing churn ratio and growing average revenue per customer.
The results achieved by the TV broadcasting and production segment are also a reason for satisfaction. We successfully carried out the coverage of all UEFA Euro 2016 football matches in a new model, without commercials and in HD quality, by combining match coverage on the free-to-air channel with coverage in dedicated pay TV channels: Polsat Sport 2 and Polsat Sport 3. We expanded our channel portfolio by adding a new sports channel –Polsat Sport Fight HD. Just like last year, the channel Polsat surpassed its direct competitors in terms of the audience share with the result of 13.2% in the commercial group. Our thematic channels were also readily chosen by the commercial group with an overall audience share of 11.6%. All our efforts led to the growth of Polsat Group's share in the TV advertising market to around 27% in 2016.
Summing up, last year was extremely successful for us. In spite of the many challenges we face in 2017, I remain optimistic. I trust that, just like in the past years, we will be able to achieve our business goals and continue the implementation of our strategy. Use of the best, the latest and the most efficient technologies, offer of top quality content and telecommunication services, investments in high speed LTE-Advanced Internet access as well as development of integrated services continue to be our priorities. The aim of these efforts is to maintain the satisfaction of our customers and consequently to increase the number of RGUs we provide. I would like to thank our customers and shareholders for the trust they have demonstrated, while expressing my gratitude for the Supervisory Board for their support for our efforts and thanking the Group's employees for their involvement, which contributed to our success in the past year.
Yours faithfully,
Tobias Solorz
President of the Management Board,
Cyfrowy Polsat S.A.